Safari – with a brand new Windows version! Sounds almost incredible, but it's a fact…
I saw the news by accident – dropped a look to the new design of Apple (MacOS X Leopard, being the reason for the new design, I guess), and from there clicked the Download Apple Safari 3.0 Beta… for Windows! How can you resist not to click such a link! :-)
Internet Explorer won't have a version for MacOS anymore (unless Microsoft change their mind at some point). The last version was IE 5.2/Mac and that was ages ago…
And now Apple releases a version of Safari for Windows!
I downloaded the beta [Safari version 3.0.1 (522.12.2), to be precise] — I was curious, of course — I do not have constant access to a Mac, so even only for testing of websites in Safari this version would be of great use for me:)
Three things make impression immediately:
Safari on Windows looks like Safari on Mac;
some Windows functions don't work (for example, you cannot scroll the page when you press down the scroll (middle) button of the mouse);
font rendering looks very different – Windows doesn't have any influence on the rendering of the fonts – nor ClearType, nor any other way of anti-aliasing (font smoothing) works…
…So all fonts look bolder and like drawn with graphite pencil. Which is good – because websites, viewed with Safari 3.0/Win, will look like (at least in theory) exactly as they would look like on Safari 3.0/Mac… and bad – because I think ClearType on Windows is better technology for font smoothing from the one I saw in Safari 3.0 Beta/Win.
Check it yourself – here are two screenshots from 456 Berea Street (click on the thumbnails to see them in their original size):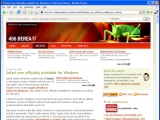 To me, text is better legible in Firefox 1.5, than in Apple Safari 3.0. This is because Firefox uses ClearType of WindowsXP, and not its own way of anti-aliasing fonts.
On the other hand, as a CSS designer, I am only delighted by this fact — I will be able to see websites in Safari/Win in the same way as they are seen by the Safari/Mac users! :-)
I just wonder, is it just on Windows that font smoothing looks not so perfect, or this is just a bug in the new Safari browser for Windows? Maybe someone with Apple Mac will be able to shed some light on this question (and perhaps add a couple of screenshots, too;-)
Anyway, Safari 3.0 will be soon available for Windows users, and we, poor web designers, forced to take into account the weirdnesses in the rendering of webpages of so many browsers — IE 7.0, IE 6.0, Firefox 1.5/Firefox 2.0, Opera 9.x, Safari 2.0/Mac — will simply add one more browser to the list: Safari 3.0/Win:)
PS You can follow an interesting discussion on Safari 3.0/Win at Roger Johansson's website: 1, 2:)
PPS I'll write maybe a follow-up later, when I have more to say on Safari 3.0/Win:) For now, it keeps crashing on me… :-D